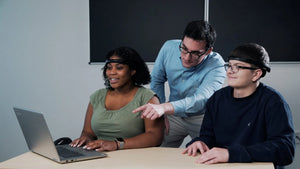 Helping educators and students thrive in a stressful world.
Discover the Power of FocusCalm
Student Wellness
FocusCalm is an ideal solution for Student Accomodation Offices and Student Wellness Centers that works for today's app-first students.
Student Athletics
FocusCalmis already being used in dozens of schools to help athletes improve performance, facilitate recovery and lower competitive stress.
Why FocusCalm?
Supports mental wellness by addressing educators and students as a whole
Provides real time feedback that delivers measurable mindfulness training
Offers ways to learn new coping strategies to manage work and personal stressors
Exclusive Features for Education:
Team Portal
Overall usage statistics and analytics
Custom assignments and programs
Custom Solutions
Team success manager
Discounted FocusCalm Headbands
Custom company branding & onboarding
Research studies
Download our Workplace Wellness Study
STEM Education Solutions
Teach Students Neuroscience
Our sister company NeuroMaker has developed a highly-engaging curriculum that teaches students about neuroscience using the FocusCalm headband...as well as offerings for robotics, biomechanics and more.
Contact us for a Demo and Learn About Volume Pricing for Educational Institutions!
Discover how FocusCalm can improve focus and performance for your team. Contact us for a demo of our neurofeedback wearable and the new FocusCalm Team Portal.