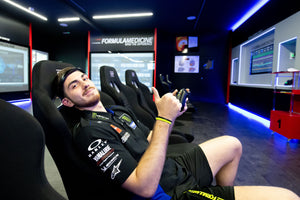 FocusCalm Reviews from elite athletes influencers
★★★★★

One of my former coaches, Dick Vermeil, used to say, '90 percent of what we do on the football field is mental.' That mental preparation was done in the form of film review, walk throughs and understanding how best to attack each defense. Yet, we never did anything to increase our mental capacity to learn through managing stress and increasing mindfulness. FocusCalm has created a dynamic game plan to help me increase my cognitive ability and perform at the highest level.

John Welbourn

9 Year NFL Veteran & CEO of Power Athlete
★★★★★

As a mind-body coach who's been teaching breathing drills and meditation in professional sports for nearly two decades, having the ability to use FocusCalm's ground-breaking technology to see the effect on athletes' brain states in real time and quantifiably measure progress has been a game changer in my work.

Dana Santas

Pro Sports Breathing Coach
★★★★★

I started using FocusCalm a few months ago and it immediately became one of the core tools I use to provide mental training to the athletes I'm working with. One of my athletes is Iga Swiatek, the 2020 French Open champion. She uses it daily before and after practice and after matches.

I love the quality of the device and how thoughtful the app is. The exercises and games are well designed and enjoyable. I'm excited to integrate FocusCalm even more deeply into my programs and look forward to finding new ways to apply technology to sports psychology.

Daria Abramowicz

Sports Psychologist & Mental Training Coach
★★★★★

As a health professional, I really love the fact that FocusCalm gives instant input on how active my mind is. I highly recommend this device.

Dr. Theresa Larson

DPT, CSCS, Strength Coach at Movement RX, Author of "Warrior"
★★★★★

FocusCalm has been a total game changer for me. It has given me the opportunity to really hone in on mindfulness and the mentality of sport…It gave me the edge I have been missing and now I am a National Champion!

Jessica Saxon

USA Weightlifting National Champion
★★★★★

The technology in FocusCalm has given our clients a unique way to measure and improve their performance in their sport and in their lives.

Dr. Riccardo Ceccarelli

CEO & Founder, Formula Medicine
★★★★★

Brain training with FocusCalm helped me further refine all my mental training techniques – from preparation, to execution, and even reflection. Their daily exercises first helped me discover what state of readiness makes me perform best, and then, helped me get there.

Morgan Vozobule

Strength & Conditioning Coach
★★★★★

When it comes to esports, the mental aspect is by far the most important…when you're playing on stage there's so many high pressure situations. Your job's basically on the line every single match you play. Being able to improve your mental fortitude and get more relaxed in these high-pressure situations is what adds the most stability to our placements and our success.

Brian Baroska

Head Coach, Minnesota Rokkr
★★★★★

I have been a board-certified Neurofeedback practitioner for many, many years and have tried most headbands on the market. This one is beautifully made, charges quickly, connects to Bluetooth almost immediately which is a huge improvement over other devices, includes enough programs and exercises in the app to keep you busy but not so many to overwhelm you! The tech-support is impeccable and the price point is extremely reasonable for the product that you are receiving. I have a lifetime subscription and I am recommending it to all colleagues, clients, friends and family. I highly recommend this device to anyone who wishes to train their brain non-invasively for peak performance and calm focus. FocusCalm wins!

Susan Antelis

Clinical Director, NY Biofeedback
★★★★★

I really enjoyed the interactive component to FocusCalm. Far too often programs that focus on mindfulness are unable to engage children and hold their interest. However, FocusCalm provides the core components of mindfulness mixed with the interactive nature of games. This allows children to learn these tools while having fun and provides them with a visual representation of their performance, leading to more consistent engagement and enjoyment. I've utilized the program while working with children on executive functioning, distress tolerance, and impulsivity.

Blackhawk Family Development Center
★★★★★

FocusCalm has been very helpful in creating a space where I have been able to increase my awareness of my mindset needs. The preset programs are very intuitive and concise enough to be used during our very busy schedule. I would recommend Focuscalm as a great complementary addition to any performance and wellness system.

Robert Yip

esports coach
★★★★★

The Workplace Experience with FocusCalm enabled our team to realize that Wellbeing and Mindfulness may be significantly enhanced by training our minds to relax and focus. Facilitated by amazing exercises, and dynamic/fun group sharing, we learned how we each may manage our mindset; and, how fundamentally beneficial that is to self and team.

Tom Finn

President/CEO & Employee-owner AVID Products, Inc.
FocusCalm Partners