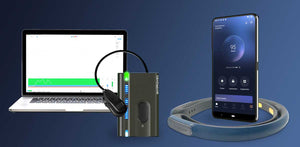 Two Advanced Wellness Technologies for One Low Price.
FocusCalm
Includes:
FocusCalm EEG headband
Realtime brain activity score based on AI algorithms
Lifetime access to 120+ brain training exercises, activities, games and programs
emWave2
Includes:
emWave2 HRV device and sensor
Interactive Coherence Coach® to learn the HeartMath self-regulation technique
Desktop software
Expert Training
Maximize your skills with HeartMath + FocusCalm Training Course
Our Expert Training course provides over 8 hours of training from neuroscientists, wellness practitioners, and clinicians to help you get even more from HeartMath and FocusCalm
Already Have emWave2?
Get FocusCalm for a special price, exclusively for HeartMath emWave customers.